A Deep Learning Approach to Designing Libraries of Developable Antibodies for Discovery
---
An educational webcast on antibody discovery





Just - Evotec Biologics is changing how antibody discovery is done and how antibodies are studied.

Antibody libraries are effective in finding therapeutics for a wide range of targets if they contain sufficient diversity. This diversity is often obtained from harvesting antibodies from human subjects or from simple computational or laboratory approaches that provide a variety of antibodies. Unfortunately, this also generates a large number of poorly-structured, useless sequences or antibodies which are a challenge to produce as therapeutics.

This webcast will describe J.HAL℠, a Humanoid Antibody Library designed by Just - Evotec Biologics.

J.HAL

℠

is based on artificial intelligence (AI) that generates unprecedented fully human, matured antibody diversity, and allows the "tuning" of the library to specific features that make the antibodies more developable and even more effective therapeutics.

Specifically, the webcast will address:
How AI technology is used to learn the properties of human antibody sequences and then generate diverse, novel antibodies

;

How J.HAL

℠

can be tailored to specific beneficial molecular features
Why this new technology may change how antibodies are studied and designed
About the speaker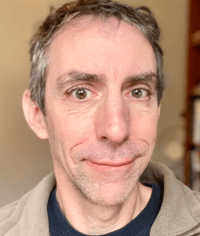 Jeremy Shaver, Scientific Director | Molecular Design and Data Science
Jeremy has several decades of experience developing practical machine learning methods and software for use in pharmaceutical, chemical, engineering, and medical device applications. He currently leads the Data Science team at Just - Evotec Biologics, which provides data science resources to groups from antibody discovery and molecular design through to process development and formulation. Previously, he was Chief of Technology Development at Eigenvector Research, where he was a lead consultant and product and team manager for machine learning software tools used by scientists throughout the pharmaceutical and chemical industries. His diverse experience includes managing laboratory data from HIV vaccine and antibody clinical trials and analyzing hyperspectral images for medical diagnosis and remote sensing.
Jeremy holds a Bachelor of Arts in Chemistry from the College of Wooster and a Ph.D. in Analytical Chemistry from Duke University.
View the webinar