Discover evotec's world-leading ipsc platform
Induced pluripotent stem cells (iPSCs) represent a paradigm shift in developing new therapeutic options for life-threatening diseases.
Evotec has built one of the largest iPSC platforms in the industry with multiple applications in drug discovery and cell therapy (e.g., neurodegeneration, immune-oncology, diabetes, retinopathies, chronic kidney and heart disease). Its broad spectrum makes it one of the most sophisticated iPSC platforms available on the market, delivering highest industrial standards in terms of throughput, reproducibility and robustness.
In drug discovery, Evotec's iPSC-based screening platform provides different cell types to model disease and identify disease-specific drugs. To better select the right drug for the right patient, we are building stratification strategies to bridge preclinical development and clinical trial testing. Evotec is also developing advanced iPSC models, such as co-cultures of multiple cell types or organ-on-a-chip approaches to study cell-cell interactions in disease ("disease in a dish"), and to further advance the validation of drug candidates for clinical studies.
In cell therapy, a selection of Evotec's iPSC-derived cell types will be advanced into off-the-shelf cell therapy products using proprietary iPSC lines, which are genetically modified to prevent immune rejection.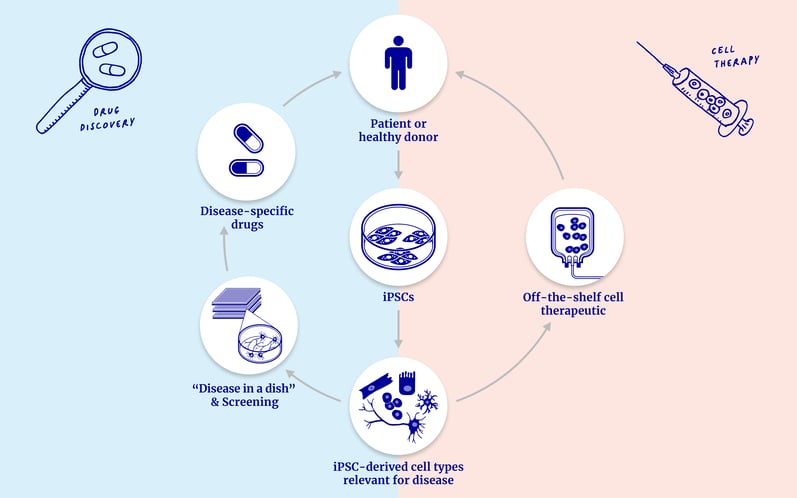 Evotec's experience with iPSCs covers:
iPSC reprogramming and generation of an internal cell bank of fully validated iPSC lines

Standardized production of specific iPSC-derived disease-relevant cell types

Automation of iPSC-derived cultures

Upscaling of iPSC culture and differentiation protocols to industry standards

Disease-relevant phenotypic read-outs for research

High-throughput screening and compound profiling

Manufacturing under GMP conditions
---
Over the last years, Evotec has established numerous partnerships and collaborations with both industry and academic partners that support the company's growing iPSC activities and expand the capabilities.
---
For additional information on Evotec's drug discovery activities and our in vitro iPSC research services, please refer to our website, or consult our Drug Discovery Updates ("DDups")
---
If you are interested in becoming part of Evotec's dynamic and rapidly expanding iPSC team, please refer to our current job openings. In addition, Evotec is looking forward to receiving unsolicited applications.

Please contact us for further information and questions.