BIOANALYTICAL CLINICAL LABS SYMPOSIUM

Join industry & regulatory experts in Verona
Evotec site, 4 October 2019


Bioanalysis plays a pivotal role in the evaluation of the pharmacokinetic and pharmacodynamic properties of new chemical entities in all development phases. When transitioning from discovery to pre-clinical and clinical development phases, bioanalytical laboratory requirements become more and more stringent.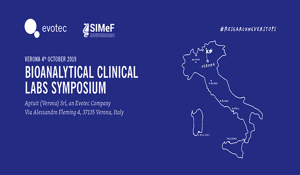 Organised by Evotec and sponsored by SIMeF, Italian Society of Pharmaceutical Medicine, our symposium will provide insights and expert updates on the current regulatory and operational governance needed by a bioanalytical laboratory to support clinical studies.
Our panel of speakers includes Vanessa Grant, Roger Chapman, Chris Herderson and Ilaria Visigalli, along with quality, bioanalytical and biometry experts from Evotec.
Topics covered in the program will be:
Italian regulatory aspects governing the bioanalytical laboratory, with a panel of international experts addressing ICH and EMA requirements as well as data integrity, deviations and CAPAs
Operational aspects and procedures, including development and validation of bioanalytical methods, validation of computerised systems involved in the analysis of samples, and CDISC standardisation of the generated data for regulatory submission
---
View the full program, speaker profiles and register for this free, educational symposium!
We look forward to seeing you in Verona.